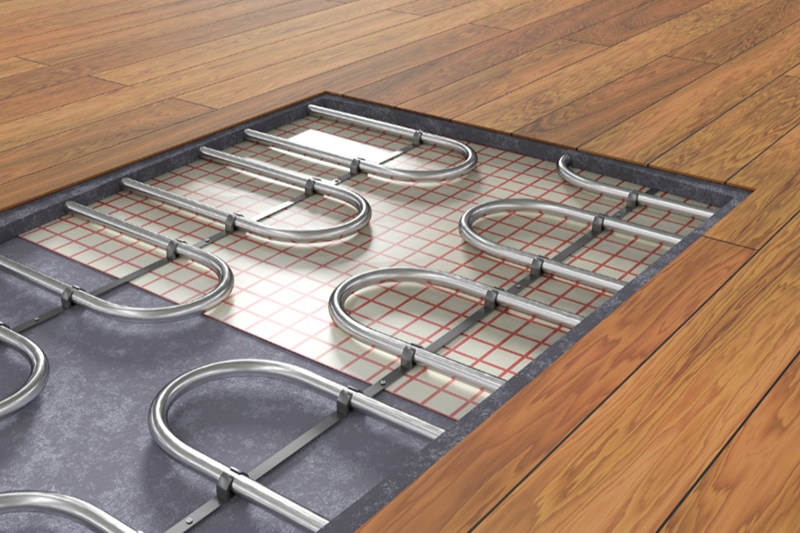 Radiant floor heat can warm you from head to toe in your Southeastern Michigan home. 
If you are considering radiant floor heat, now is the time to put your dreams into action. With radiant floor heat in place this winter, your bare feet will never have to touch an icy-cold floor again.
Let Great Dane Heating & Air Conditioning help you choose the radiant floor system best suited for your heating project. We are pros at heating, ventilation, and air conditioning (HVAC).  You can trust us for solutions that will fit your budget and comfort goals, whether you plan to heat your entire Clinton Township home or just one room.
What is Radiant Floor Heat?
The heat from electric cables or water-filled tubes placed under the floor radiates upward, warming you and anyone else in the room.
The tubes or cables are arranged in a pattern, giving you even heating throughout your living space.
By comparison, a forced-air system blows heated air out of one or two vents in each room in your home. The air is hot as it emerges from the vent but loses temperature as it rises, falls, and heads into the return air duct.
Another difference between the two systems is ductwork. Forced-air furnaces and heat pumps use air ducts, which can waste heat through cracks and lower your heating system's efficiency. ENERGY STAR® points out that 20 to 30 percent of the air moving through ductwork goes to waste because of poor connections, holes, and cracks.
Because radiant floor heat does not use ductwork, it has no duct air losses, making it more efficient than forced-air systems. It is cleaner than a forced-air system that can blow dust and other allergens out of ductwork and throughout your living space.
Radiant floor heat is quiet and hidden from view. There are no vents in the walls or air handlers mounted near the ceiling to interfere with room design and aesthetics.  
One of our Great Dane pros can recommend the type of radiant floor heating that will work best in your Clinton Township home based on your heating goals and budget. 
Electric Radiant Floor Heat
The electric system is the easiest to install. It consists of heating cables or wires placed between the floor and subfloor. The wires can be loose, attached to mesh, or placed in a solid mat. Some products operate under the subfloor, which keeps floors intact during installation.
Blanketing your entire house with electric radiant floor heating would substantially increase your electricity bill. Electric radiant floor heat is a good option for one room or an addition. It is a perfect upgrade to a master bathroom, for example, where it would bring warmth to an otherwise cold tile floor.
Hydronic Radiant Floor Heat
Hydronic systems use hot water to heat your home. They are more complex than electric systems because they need a boiler or water heater to heat the water and a pump to move it through loops of plastic PEX tubing that lie on top of the subfloor—or under it.
A hydronic system is a good choice for heating your whole home. You can retrofit it into your existing home or easily add it during home construction.
Floor Covering
Ceramic tile is the most common and effective floor covering for radiant floor heat, according to the U.S. Department of Energy (DOE). You also can use laminated wood, vinyl, linoleum, and a thin layer of carpeting, although they may decrease system efficiency.
We can suggest floor coverings that work best for your home and radiant floor system.
Improve Your Comfort This Winter
Ask our Great Dane Heating & Air Conditioning experts how radiant floor heat can enhance your Clinton Township, MI, home. Call us at 844.214.8331 or request service online.