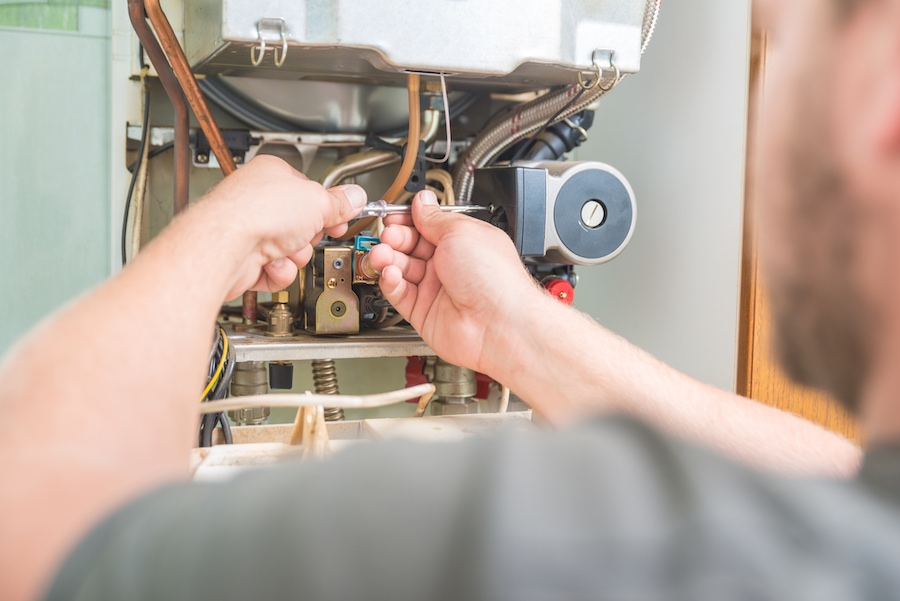 Have you ever considered how the heating, ventilation, and air conditioning system (HVAC) in your Warren home works? The truth is, there are many different components to this system, including the heat exchanger, that work together to get your Michigan home to your preferred temperature. 
But what exactly is a heat exchanger and how does it help provide heating and cooling to your home?
Our Great Dane Heating and Air Conditioning professionals are here to answer any and all of your HVAC questions. We want to provide you with information on how your system works so you know the appropriate way to maintain it and have it operate for its full life span.
Understanding the Heat Exchanger
Your heat exchanger transfers heat from one location to another.
Depending on the type of furnace you have, natural gas or propane fuel is burned in the combustion chamber. The flame and burning gases created there are then moved through the heat exchanger and heat the metal. This hot metal heats the air surrounding the heat exchanger.
Primary and Secondary Heat Exchangers
If you have a furnace considered more than 90 percent efficient, you have both primary and secondary heat exchangers. The secondary heat exchanger is composed of steel designed to tolerate exposure to heat, moisture, and acid. Less efficient furnaces only use a primary heat exchanger.
High-efficient furnaces involve a transfer of the exhaust gas (also called flue gas) from the primary heat exchanger to the secondary heat exchanger. Additional heat is released from the gas and water vapor forms, which liquifies and disperses latent heat into the secondary heat exchanger. This causes the furnace to be even more efficient.
Importance of Heat Exchanger Maintenance
You should have routine maintenance performed on the components of your HVAC system, especially your heat exchanger. It's important to check it is operating appropriately and in good condition. Regular furnace maintenance can also positively impact your Michigan home's indoor air quality (IAQ). 
A damaged or cracked heat exchanger can be dangerous and lead to carbon monoxide (CO) leaks. In fact, accidental carbon monoxide poisoning unrelated to fires is responsible for over 400 American deaths, 20,000 emergency visits, and 4,000 hospitalizations every single year, according the Centers for Disease Control and Prevention (CDC).
To ensure your heat exchanger and HVAC system are working efficiently, contact our Great Dane heating and cooling professionals today. We would be happy to come out to your Warren area home for a proper inspection and discuss how you can improve the efficiency of your system.
Let Great Dane Provide You With Heating and Cooling Solutions
When it comes to providing high-quality products and ideal home solutions, Great Dane Heating and Air Conditioning is here for you in and near Warren, MI. Whether you are looking for an upgrade, installation, repair, or maintenance, give us a call at 586.790.2604 or request service online and we will reach out to you.