Carrier Packaged Products
Whether you want to replace an existing air conditioner or heat pump – or reduce your energy costs with a Hybrid Heat® solution – our packaged products could be the creative solution you're looking for. By combining multiple components into a single unit that sits outside your home, the only thing left inside is improved comfort.
Select a model below to learn more.
Carrier Comfort™ Series Packaged Systems
If efficiency is a hot button for you but budget is your primary concern, consider our Comfort 90+% AFUE gas furnaces.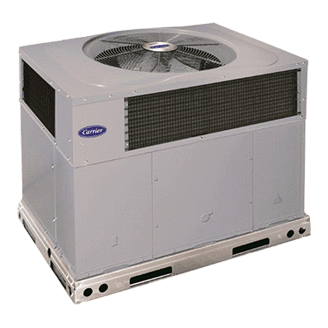 Comfort™ 14 Packaged Gas Furnace/Air Conditioner System - 48VL-C
This Comfort system offers that perfect balance between budget limits you may have today and your desire for long-term energy savings.
It wraps together the summer comfort of an air conditioner with winter warmth from a gas furnace.
Standard Features
14 SEER
81% AFUE
Sound: as low as 73 decibels in cooling mode
Blower motor aided, enhanced summer dehumidification
Single-stage compressor operation
Multi-speed blower improves comfort and aids quiet operation
Aluminized steel, Turbo-Tubular™ design heat exchanger enhances heat transfer
Fully insulated cabinet
Air purifier, humidifier and ventilator compatible
Non-ozone depleting Puron® refrigerant
Filter drier system protection from moisture and contaminants
Corrosion-resistant inducer assembly with stainless steel shaft
Envirotuff™ rust-proof base with integrated drain
10-year parts limited warranty
20-year heat exchanger limited warranty
Optional Features
Stainless steel heat exchanger with lifetime limited warranty
ArmorCoat™ coil tin-plating for enhanced corrosion resistance
Optional labor warranty available