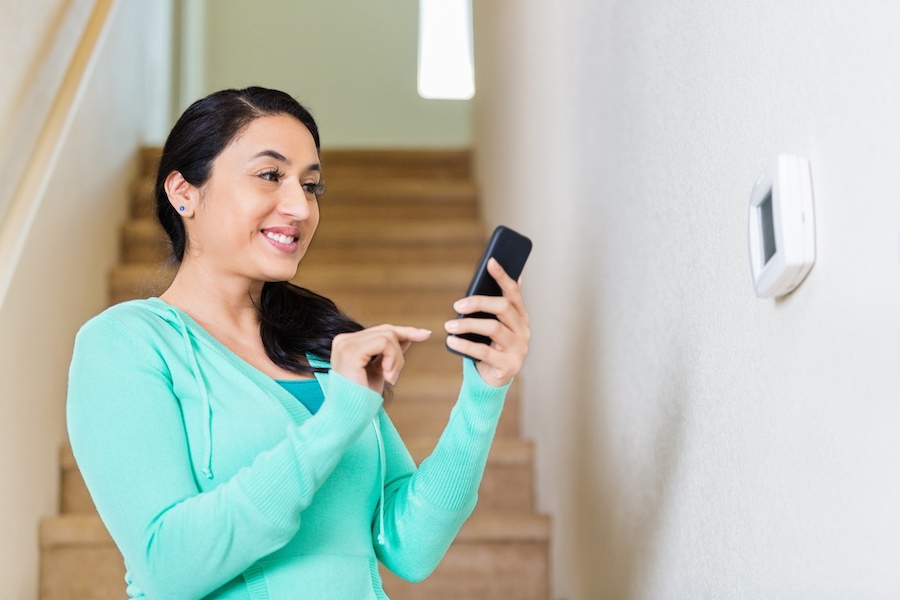 Are you ready to turn your Michigan residence into a smart home?
Home automation enhances convenience and comfort here in the Mitten state. Smart technology can help you save on utility bills by giving you remote control of your appliances, entertainment system, security, along with your heating, ventilation, and air conditioning (HVAC) system.
In a smart home, your devices and appliances connect to the Internet and each other. You control this home network with a single app on your smartphone, tablet, or laptop computer using a network you can control via a mobile tablet or smartphone.
You can turn systems on or off, dial your thermostat up or down, lock and unlock doors, zoom in and zoom out surveillance cameras, and open and close motorized drapes, no matter where you are.
Michigan Home Automation Services
At Great Dane Heating & Air Conditioning, we recognize the significant benefits that automation can offer your Shelby Township home. Our experts are well-versed in all aspects of home automation, including costs, home platforms, apps, hubs, and products you can incorporate into an automated home.
We can help you ease into automation or go full-blown smart home with appliances and devices integrated into every room.
What do you want to automate in your smart home? Do you have a specific goal in mind? You may want to start with a few products, such as a smart thermostat and lighting. As you incorporate more smart devices into your lifestyle, consider getting a hub to connect them into a network. You will then need only one app to control all devices.
Decide what you want home automation to do for you. Consider your budget, your comfort goals, and your need for convenience.
Save Energy And Money
Home automation can help you control power use and conserve energy, cutting utility costs in the process. You can tell your thermostat to lower the temperature every time you leave your home or direct lights to turn off when you leave the room.
ENERGY STAR®, for example, says its smart lightbulbs use 90 percent less energy and 15 times more life expectancy than incandescent lightbulbs. These lights turn off, off, dim, change color and shades, respond to voice commands geo-fencing, and your schedule with an app on your mobile device.
You can program motorized shades to open when the sun is at its brightest while scheduling your thermostat to dial back a few degrees. Wi-Fi–enabled water sensors can alert you to plumbing leaks and automatically shut off your main water supply, averting damage to your budget and home.
Our qualified technicians at Great Dane Heating & Air Conditioning can recommend smart technology that saves energy without reducing your comfort at home.
Improve Your Safety
Forgetting to lock the door at home is no problem when you install a keyless entry that you can lock and unlock from anywhere with your smartphone. Motion sensors and security cameras can tell you who or what is in your backyard or on your front porch late at night.
Smart smoke detectors can send alerts to your smartphone. Some smart carbon monoxide (CO) detectors can identify the location of a CO leak in your Shelby Township home.
Home automation gives you control of cameras, alarms, detectors, and other safety devices from one app on your smartphone or other mobile devices.
Comfort and convenience
What brings you comfort at home? Is it about maintaining the perfect temperature around the clock? Does it include soothing music at bedtime? You can program your home automation network to enhance indoor climate, entertainment, cooking, cleaning, lighting, and just about anything else you can imagine.
Remote access adds remarkable convenience to the home automation process. Controlling your home devices, appliances, and HVAC system is a breeze with your smartphone, tablet, or laptop computer.
You start your morning coffee and open drapes while still in bed, check security cameras while on vacation, and let your thermostat dial the temperature down when you leave the house.
Automate Your Lifestyle
Ready to turn your Shelby Township, MI dwelling into a smart home? Great Dane Heating & Air Conditioning can help you take your first steps toward automation. Call us at 586.790.2604 or request service online.