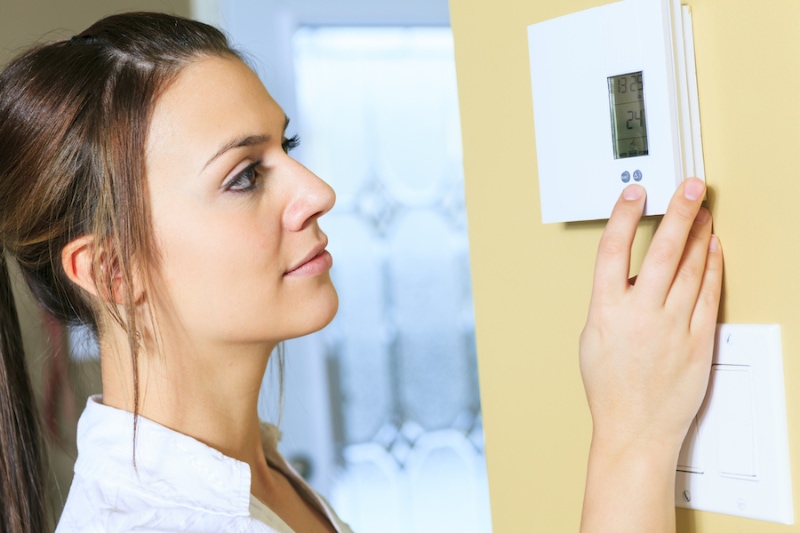 Are you having trouble setting your Carrier® thermostat in your Clinton Township home? Whether you have a traditional or smart Carrier thermostat for your heating, ventilation, and air conditioning (HVAC) system in your Michigan home, setting your thermostat and troubleshooting any issues that arise along the way can be simple.
However, if you need further assistance with your specific thermostat model or would prefer for each component of your heating and cooling system to be assessed by our Great Dane experts, give us a call—we are here for you.
How Do I Set My Carrier Thermostat?
If your Carrier thermostat is not set up correctly, it won't be able to work with your HVAC system to adjust the temperature in your Michigan home to your liking. Gain access to the features your specific thermostat model offers by taking the appropriate steps, if applicable, as listed below:
Program the correct date and time. Many Carrier thermostat models will need the date and time to be set. The way you do this will depend on the particular model you have. Keep in mind, models and their features can vary, so be sure to read your owner's manual or call our Great Dane professionals if you are having trouble with the setup process.

For many touch screen Carrier thermostat models, you can\? touch where it displays the Date and Time on the screen. From there, you should be able to tap the arrows pointing up and down to adjust the hour, minute, month, day, and year to read correctly. Be sure to tap Save afterward.

On many of the button Carrier thermostat models, you can set the time by first pushing the Time/Temp button. Then, hit the arrows pointing up and down until the correct time is shown. To select the correct day of the week, tap the Day button, and continue to tap it until the correct day appears.

If you are trying to set the date and time on your Carrier thermostat model but don't see either of the options mentioned above, you can always give our Great Dane thermostat experts a call for assistance.
Choose the mode to match your comfort. Carrier thermostats come with different modes, like Auto and On. Selecting Auto prompts your HVAC system to adjust your home to the temperature you select by causing the blower to turn on for heating or cooling as needed so the temperature remains stable. Choosing On tells the blower to continuously blow air, regardless of the air temperature.

To choose the mode on a touch screen Carrier thermostat, you typically can tap the screen, opt for Mode, and press the arrows accordingly to adjust to your preferred mode.

If you have a button Carrier thermostat model, you can usually navigate the different modes by pressing the Mode button and selecting the appropriate mode this way.

The mode may need to be selected differently depending on the Carrier thermostat model you have. For additional help, please contact one of our HVAC professionals.

Select your preferred temperature. Choose the temperature you would like in your home. Typically, you can do this by tapping the arrow buttons or the arrows on the screen if you have a touch screen model.

When you want to maintain a certain temperature in your Clinton Township home, press Hold/Run until Hold appears. This setting causes the thermostat to maintain the current temperature until you opt to change it. If you press Hold/Run again, Run will appear. This is where your thermostat will revert back to your original program setting.

Depending on the age and model of your thermostat, you may only have the option of setting a single temperature, so if you're looking to upgrade your thermostat, give our Great Dane professionals a call today to discuss your options.
Set a custom schedule for heating and cooling that works for you. Some Carrier thermostats allow you to program your own customized heating and cooling schedule, which can help your home remain at your preferred temperature. A programmed schedule can also save you money when you reduce your energy usage by lowering your thermostat while you're asleep or not in your Michigan home.

In fact, the US Department of Energy (DOE) reports you could reduce your heating and cooling costs by as much as 10 percent each year when you set your thermostat back as little as 7 degrees Fahrenheit for eight hours a day.

On some Carrier thermostat models, you can opt to be guided through the scheduling process, schedule it on your own without assistance, or upload a schedule you have already created from a USB drive. Some of these touch screen models allow you to customize your heating and cooling schedule by selecting specific days, which you can do by tapping the arrows left or right until you have the days you want to set.

Depending on the model you have, you can program specific times where you will be home, away, or asleep. To select the times on a touch screen, you can press the arrows up or down and choose the block of time you want to assign with the appropriate activity.

If you have zone control options, you can also customize which specific rooms you want to be coordinated with your heating and cooling schedule. Be sure to set Save for all changes you make.

Remember that not every Carrier thermostat model will have the same features, so if you don't see options for creating a custom schedule but are interested in a model with this feature, call our Great Dane team to go over the options available today.
Ensure Wi-Fi connection is set up.If your Carrier thermostat model is Wi-Fi compatible, be sure to set it up so you can enjoy features like the ability to remotely operate your thermostat. On some Carrier thermostat models, you can even check the outdoor temperature for each day of the week when connected to Wi-Fi.

To connect with Wi-Fi, you can usually go to your thermostat and navigate to Menu, but remember, it depends on the specific model you have (and if it is capable of connecting to Wi-Fi). Press the arrows until the Wi-Fi is blinking and tap Select. Look for your network name and hit Select when it appears.

Repeat hitting the arrows to get your password to show up. Hit Select and navigate with the arrows again until you have the option to change your password. You can press Select and enter the characters for your password. Hit the Start button once you have finished this. The Wi-Fi icon on the screen will flash until the connection is complete.

Be sure to download the phone app compatible with your specific Carrier thermostat model so you can access, control, and monitor your thermostat.
If your specific model has the feature, programming your Carrier thermostat will make your home more comfortable—all while helping you reduce energy usage and lower your energy bills. If you want to experience these benefits but are having trouble setting up your thermostat or don't have a Carrier thermostat with the features you desire and are ready for the upgrade, give our Great Dane experts a call today.
Great Dane Is Here to Assist With Your Heating and Cooling Needs
At Great Dane, we take pride in providing you with effective home solutions. Our heating and cooling professionals here in Clinton Township, MI, want nothing more than for you to have an efficient HVAC system you can depend on year-round. Give us a call at 586.790.2604 or request service online so we can help you get your system in shape for the season ahead!